Giveaway: An Adorable Lemonade Print from The Print Kitchen!
9:00 am
Today I am giving one of you lucky readers a chance to win a gorgeous screen print from the lovely Karys' 'The Print Kitchen'. Above is a picture of one of her lovely works that I was lucky enough to be sent (she only makes four of every design so you get something so unique!), and I'd love for one of you to get something just as beautiful, so I'm running a giveaway starting today and running for a month (9th June) so you have plenty of time to enter. The winner will be receiving this adorable lemonade bottle and straw print below which is perfect for the summer sunshine we've all been craving! Karys has also given me a discount code for all of you lovely readers to get 10% off your order with The Print Kitchen, with a free bunny print thrown in at no extra cost. See more details below the Rafflecopter widget!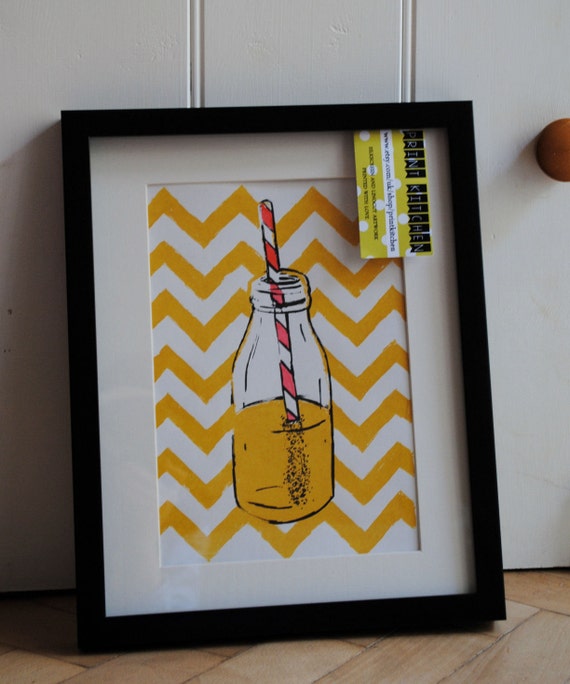 For more about 'The Print Kitchen', here is Karys' story in her own words:

'I graduated from University with a BA (Hons) in Fine Art in 2012 with a keen interest in print making. To keep creative whilst working an office job I started making prints in my spare time. Now I work as an Art Technician for a University College helping students learn to screen print and build on their own art projects. I run Print Kitchen from my own kitchen, and in the sunshine I take the workshop outside! I absolutely love screenprinting and try to keep it fresh by only making a maximum of 5 of each design so you are always getting something a bit unique and never a reproduction! I hand paint all my stencils straight onto the screen so the have a very illustrative feel as oppose to graphic/photographic stencils, with a lot of prints also hand finished in drawing inks.'

Sounds wonderful, doesn't it? Here are some photos of Karys at hard work!
The giveaway is a chance to win the lemonade and straw print seen above.
The giveaway will run between 9am on 9th May 2014 until 9am on 9th June 2014.
You must be living in the UK to enter.
If you are under 16, ask permission from a parent or guardian before entering.
You entry will not be valid if the deadline for the giveaway has passed.
The winner will be notified via Twitter/email if they have won and must respond within 3 days of being notified before the prize is given to another entrant.
The winner's details will be passed on to Karys as soon as a response has been received, and she will send you the prize print!
a Rafflecopter giveaway
P.S. As an extra bonus, Karys has given me a discount code for all of you lovelies to use to get 10% off any orders from The Print Kitchen's Etsy store. The code is PIXIECROP10 and she's also going to throw in a free bunny print to anyone who checks out with that code! How gosh darn lovely.